nexialist ?
nexialist helps to develop and provide market access to medical innovations, using a multidisciplinary approach based on a global view of the product life cycle that includes the end user.
Our goal?
Continuously improve and facilitate access to regulations for SMEs with the aim of making medical innovations accessible to as many people as possible.
It is also important for us to multiply the opportunities for medical progress to emerge.

In the health field, regulations are constantly evolving, and their application has become the # 1 challenge for business leaders!
In this context, being accompanied by nexialist means ensuring:
to deal with regulatory affairs with a complete peace of mind, anticipating changes in regulations,
to raise the skills of internal teams through appropriate training programs,
to accelerate the access of products to the market and maintain them over time,
to master technical documentation gathering proofs of conformity,
to set up a quality system in accordance with organizational requirements,
to transform regulatory requirements into business opportunity and integrate regulation at the heart of the business strategy.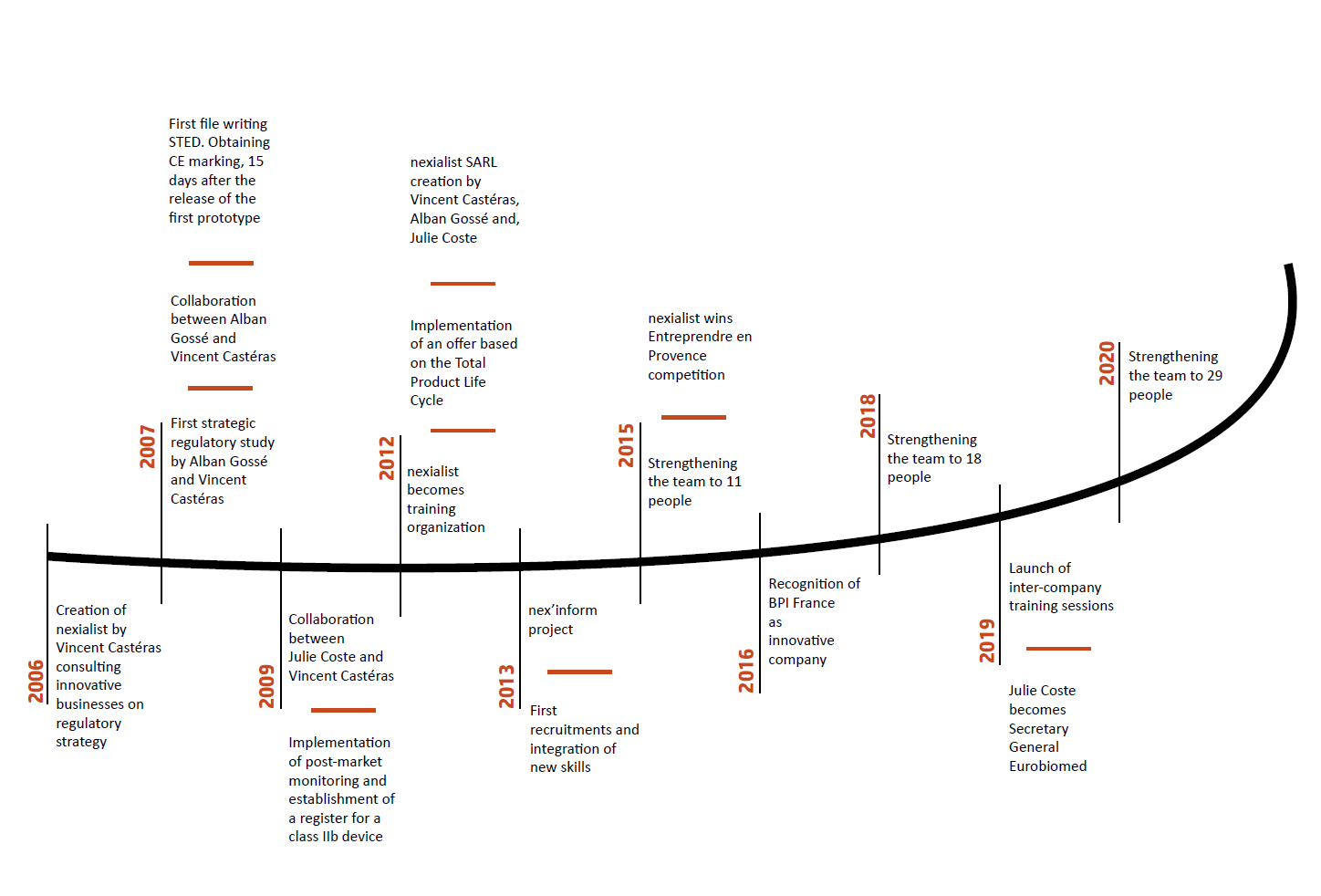 Where does the word nexialist come from?
nexialism* designates a scientific method consisting in articulating knowledge in a composite way to find original solutions to problems and to identify new tracks.
(*) term created by the writer of science fiction AE Van Vogt in his book La Faune de l'Espace
Established in La Ciotat (France) in 2006, nexialist's ability to anticipate regulations, which translates into simple, practical and directly usable advice to customers, set it apart.
Drawing on its extensive experience, multidisciplinary team and network, Nexialist is now one of the key players in the field of medical device consulting.
Whatever the need, Nexialist collaborates with customers to design customised solutions that are compliant with regulatory requirements.
Our missions
Support customers…
Who desire to put health products on the market, to optimize time to market by avoiding delays in the processing of files due to errors in the interpretation of regulations.
Who commercialize health products, in maintaining their products conformity, by reducing the risk of discontinuation or suspension of commercialization, with the benefit of simplifying maintenance.
And…
Advise and support, with proximity and simplicity, the largest number of SMEs / SMIs in their approach to regulation.
Help to transform regulatory requirements into business opportunities.
Transform regulations into anticipation strategies.
Our ambition
To give meaning to regulations on business strategy,
Make regulations accessible and create value for the greatest number of companies,
Transform the negative vision of the regulatory for business leaders.
Our approach is based on integrity, creativity, expertise and a strategic perspective on the issues, whether technical, regulatory or human.
A team of experts by your side restoring meaning to regulation and integrating it into your corporate strategy, benefiting your performance.